Just last week, prominent business leaders from Rosarito met with Juan Manual Hernandez, president of the Citizens Council For Public Security in Baja (CCSPBC), a citizens led association focused on overseeing authorities in charge of public security.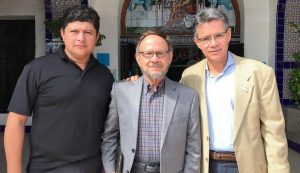 During the meeting, Juan Hernandez shared data for crimes committed this year, which amounts to 1,987 from January to August, and although the number has been going down steadily, he noted that it is still a very high crime rate.
Hernandez stated that they had procured funding from the state public security office in order to poll citizens regarding the official complaints made in government office, so they can compare it with official data.
He also said that now, with social media being so popular, violence is very perceptive. With almost every crime getting a lot of exposure when it's shared constantly.
Regarding the C5i (Command, Control, Communications, Computers, Collaboration, and Intelligence) center, he said that they were still against it as it's a project that will indebt the state highly without any certainty that it will work.
The C5i for Baja project has been highly controversial, as several citizens groups have said that investment should be done in other parts of public security before investing in this. A better. More efficient court system, better trained police or more equipment for them should be prioritized over the C5i, they have said, as it's common problem that criminals go free as soon as they are captured for procedural "mistakes".
The project will cost the state around 43 million USD, to be paid in 10 years, to a private company, which infuriated citizens even more as it is now seemed as another one of the governor's "businesses".
Genaro de la Torre, president of the citizens council for public security for Tijuana, stated last year that going ahead with the C5i would be like "giving a baby a bike, first he needs to learn to crawl".